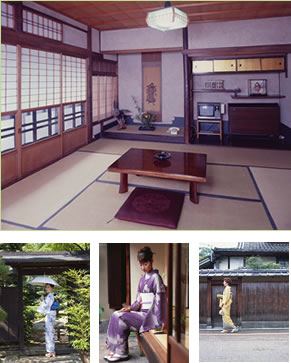 All the rooms are the Japanese style rooms, with elegant and quiet environment.

Hotel rooms: 14, available for 50 persons
Annex rooms: 6, available for 20 persons

Do you want to have the experience of having on the summer kimono(Yukata)or Kimono
and strolling on the streets of Kyoto?
We have the clothes for rent free of charge, and provide the Kitsuke service.
With full range of colors and patterns for your choice.

You will pay the cost for laundry.
(Yen 2,200 for kimono and Yen 1,100 for summer kimono)
With limited quantity, so please contact us for confirmation upon reservation.